Word salad runs in the Trump family. Here is little
Patrick
Eric
Bateman
Trump
explaining
that his sister would handle sex harassment in the workplace much differently than Gretchen Carlson and Megan Kelly.
Megyn Kelly had one word for Eric Trump after he explained what his sister Ivanka would do if she was being sexually harassed in the workplace.
"Sigh," she tweeted, with a link to Trump's comments.
During an appearance on "CBS This Morning," Eric Trump was asked about the sexual harassment suit against Roger Ailes, which led to his ouster at Fox News. The suit was filed by former host Gretchen Carlson, and a number of other women came forward subsequently to detail instances of workplace sexual harassment they alleged Ailes committed against them.
Kelly was one of those women, according to Gabriel Sherman at New York Magazine. She has yet to comment on the Ailes matter publicly.
The question posed to Eric Trump was framed after his father, Republican nominee Donald Trump, said Ivanka would find a new job if she was being sexually harassed at work. The CBS host, Charlie Rose, asked Eric if his father stood by those statements.
"There is no question that that should obviously be addressed, and it should be addressed strongly," Eric Trump said. "Hey, listen, we all run a company, my father runs a company, we take this — that is an absolute no-go anywhere, and that's very much the case."
"I think what he's saying is, Ivanka is a strong, powerful woman, she wouldn't allow herself to be objected [sic] to it, and by the way, you should take it up with Human Resources, and I think she would as a strong person, at the same time, I don't think she would allow herself to be subjected to that," he continued. "I think that's a point he was making, and I think he did so well."
However, your sister, who in fact works for your father, has been subjected to what we can only imagine as uninvited remarks (for example, his infamous
remarks
about dating her) and groping, in public in front of cameras. Cases in point: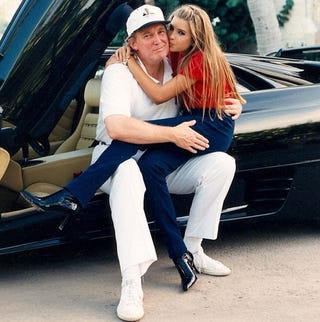 What the fuck, Donald? Ivanka---you don't have to live this way any longer. Call your mother for help.Tiffany, be grateful that you hardly ever spent time with this man.