Poor little Ivanka---will her fashion brand go down with the
family ship
?
For Ivanka, who has been the most visible of the next-generation Trumps, a fall from cultural grace could be especially jarring.


While her brother Donald Jr. has been exposed as every bit as

crass

, slithery, and

sexist

as his namesake father, and as the likely

source

of his dad's strange affinity for alt-right Twitter; and while younger brother Eric remains a creepy shadow in the family portrait, Ivanka has been cast by admiring media, and by Republicans, as the family heroine. She was practically worshipped by an adoring pundit class for her speech at the Republican convention, and tasked with selling the Donald Trump candidacy to young voters.

Even before the campaign, Ivanka played a prominent role in throwing the family's money around to political players, and selling the licensing deals that are the Trumps' bread and butter.

In August 2013, after Florida Attorney General Pam Bondi's office began looking into fraud allegations against Trump University, and following a direct solicitation by Bondi, both Donald and Ivanka Trump wrote $500 checks to Bondi's campaign, two months apart, on July 15, 2013, and Sept. 10, 2013, respectively. A check for $25,000 followed on Sept. 17, signed by the Trump Foundation, in violation of the law. Trump has since paid a $2,500 fine.


But that wasn't the end of the Trumps' largesse. A year later, as Bondi's re-election approached, Donald and Ivanka wrote three checks, totaling $125,000, to the Republican Party of Florida; the first, a $25,000 check from Ivanka, on July 23, 2014, followed by checks for $75,000 on July 31 and $25,000 on Aug. 4 from her father.


The Republican Party of Florida did not respond to an inquiry regarding whether the money was earmarked for Bondi's race, or for the reelection of Florida Gov. Rick Scott, who now heads a pro-Trump super PAC. Whatever the purpose, the Trumps' generosity to the Republican Party of Florida was a father-daughter affair.


The contributions are not the only time Ivanka has acted in tandem with her dad.

A Baja California luxury-condo development that

went bust

in 2009, taking $32.5 million in buyers' deposits with it, was a family project as well. Buyers have claimed that Ivanka and brother Donald Jr. personally made the pitch for the condos, which buyers were led to believe were being developed by the Trump Organization, when in fact, it was yet another name-licensing deal.

"We are developing a world-class resort befitting of the Trump brand. I'm very excited about it. I actually chose to buy a unit in the first tower," Ivanka Trump is quoted in the

Los Angeles Times exposé

as exclaiming in a video on the Trump Baja website.

Now, with their business practices exposed, and traffic to Trump hotels and golf courses down, including at the newly leased but reportedly half-empty

Trump hotel in the Old Post Office in Washington D.C.,

the value of the main thing the Trump family has for sale—its name—could prove to be a significant liability.

After all, with the Trump moniker now associated with racism, incompetence, and sexual assault, rather than with wealth and opulence, it's hard to imagine it ever being a mainstream brand again.


And while her father could rebound with a Trump TV streaming-video play, which need only appeal to his angry, white, Pepe the frog fan base—giving him a potential market of more than 14 million people—Ivanka still relies on her mainstream, Manhattan appeal. The prospect of life as the youthful moll to the Bannon-Giuliani-Ailes-Trump alt-right gang could be a miserable one indeed.
As I
speculated
before, I can imagine Ivanka's poorly tailored* fashion line to be on the remainder racks at Marshall's by next fall. Only bargain hunters will buy her stuff, and only after they x-out her name on the tags.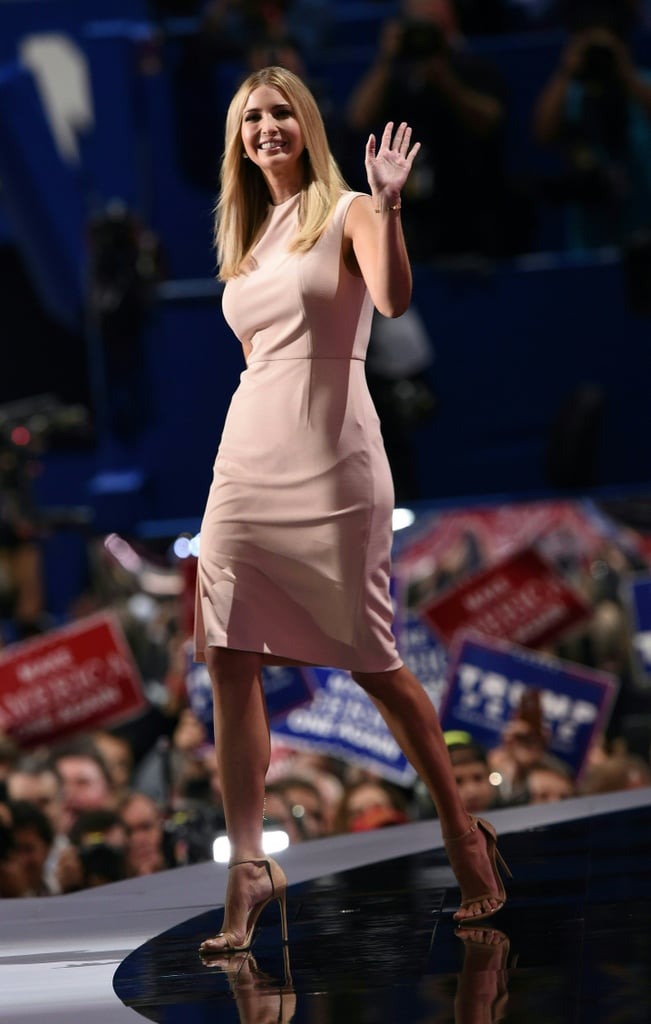 * Look how the fabric pulls around the bodice. Cheap fabric, cheaply made.