The
symbolism is
too obvious for further comment:
The most expensive destroyer ever built for the US navy has suffered an engineering problem in the Panama Canal and had to be towed to port.
US Third Fleet spokesman commander Ryan Perry said a vice-admiral directed the USS Zumwalt to remain at ex-Naval Station Rodman in Panama to address the issues, which arose on Monday.
......................
USNI News, a publication of the US Naval Institute, reported on its website that the ship was in the canal when it lost propulsion.
Crew also saw water getting into bearings that connect electrical motors to driveshafts, the website reported.
..............................
The Zumwalt cost more than $4.4bn and was commissioned in October in Maryland. It also suffered a leak in its propulsion system before it was commissioned. The leak required the ship to remain at Naval Station Norfolk in Virginia longer than expected for repairs.
Is it still under warranty?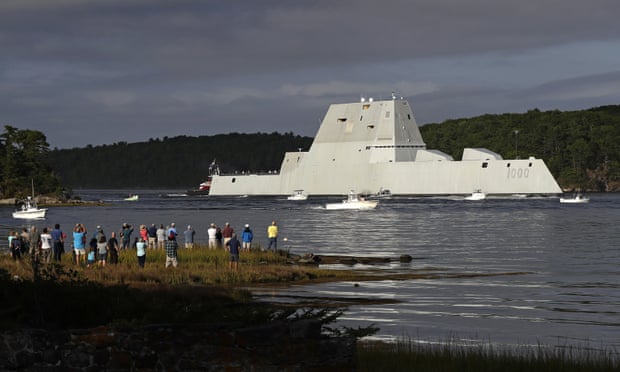 I was just reading
Andrew Cockburn's
new piece in Harper's which starts off with this quote from a long serving Pentagon official, Ivan Selin:
"...we program weapons that don't work to meet threats that don't exist."